In a desperate effort to reduce the size of my fabric stash, I decided it was time to use my second cut of Harris tweed. Yeah, the hand woven, expensive, wool stuff from Scotland. I went through my patterns and Butterick 6255 caught my eye, specifically views B and C. They're the same except B has a contrast facing.
I cut out the pattern and tried to fit it onto my fabric. I could have just about gotten everything to fit but forget about pattern matching. So I just started cutting out priority pieces. Fronts and backs, sleeves, and facings last. I didn't have enough fabric to get the lower sleeve or facing cut out. I did the front side and back side pieces on the bias because it does double duty of making the pattern matching easier while adding interest.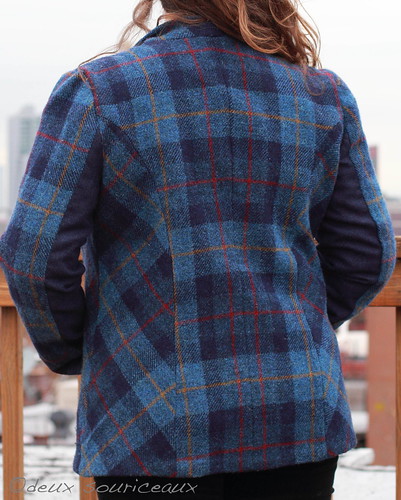 I went to Mood for a coordinating soft wool (the facing ends up against the neck and that tweed is a bit itchy) and lining. The pattern doesn't actually call for a lining but I wanted one. My tweed skirt sometimes feels itchy right through my tights and I didn't want that on a jacket. It's also quite grippy wool so I wanted a smooth lining to help with putting on and taking off the jacket. I found a great navy wool flannel, I think? It's a plain weave as far as I can tell and it's so soft! I could snuggle it! It's lovely against my neck.
The lining is yellow China silk. It isn't obvious in the picture but it matches the yellow stripe in the wool. It's a lot more delicate than I would like but they didn't have a good color in the Bemberg rayon. Actually, I don't even remember seeing any Bemberg… The lining was actually a bit of a beast to sew and I forgot to give it extra ease so I'm going to have to reinforce the lining seams or something.
I cut out a large and made no fit modifications whatsoever. It's more ease than I usually choose so no, the shoulder seams aren't perfectly on the edge of my shoulders. But since this is a lightish jacket, I wanted extra room to add a sweater underneath. I didn't even make a muslin! I did take the time to check finished measurements and check fit as I sewed. It's easy enough to take a seam in or let one out a little when you have 5/8″ to work with.
I did add pockets though! What's a jacket without pockets? I put them in the front seams. It's just a more comfortable placement for the hands and doesn't distort the jacket as much when wearing. I don't know about others but having my hands in side seam pockets always makes me pull the garment forward. Especially in a jacket that you wear when it's a bit cold out. The tendency is to bring your arms and hands in for more warmth, no?
Sewing the wool fabrics was a dream. They handle well and love steam. I will never understand why they say wool needs delicate treatment. I find it quite sturdy, actually. There's quite a bit of hand sewing. Hems are hand sewn as well as the inside edge of the facing.
The closure is just a couple sew in snaps. I didn't follow the pattern markings, just closed the jacket as I wanted to wear it and marked the closure points with pins. I may move them though because the jacket doesn't always sit right.
I actually finished the jacket just in time for Rhinebeck. I didn't have a wool sweater but I had a wool jacket! I wanted M to take pictures there but it didn't happen and then it took forever to get to the roof and snap some pictures. We ended up doing it on my birthday because it wasn't too cold. We came back from the restaurant and did the pictures as fast as possible so no styling whatsoever, just my hair blowing all over the place and me squinting in that too bright cloudy light!