So excited for this new season of Project Run & Play!  I love how the themes push my creativity. This year, I have an added challenge : no new fabrics.  I'm trying to sew my stash as much as possible.
So.  First challenge : 80s cartoons to be used as inspiration for an outfit.  NOT a costume.  And my mind went to… Jem!  I'm not quite sure why.  We didn't have cable when I was a kid so I hardly ever got to watch that show (I did find it in French on a slightly snowy channel a few times).  I used to watch Candy Candy (curly blonde orphan), Belle and Sebastian (boy searches for his mom with his dog), Care Bears, Astroboy…  Maybe it's because I loved Jem dolls.  They were like Barbies but slightly bigger.  Bigger feet and bodies.  I remember not being able to use Barbie clothes on them.  So slightly more realistic?
I searched for images and found this one.
I just knew that souricette 1 would love a dress like that.  I went through my stash to find the perfect fabrics, drafted a dress, and came up with this!
I decided to make it into a tank dress so it would stand up to play better.  I used one of souricette 1's tank tops to get the curves right and made it up in some pink jersey.  I trimmed the neckline and armholes with stretch lace, stretching it slightly to make everything nice and snug.
The bottom of the tank was cut on the diagonal, the right side being a full 3.5″ longer than the left (so left side when looking at pictures).
My proud moment was the skirt.  Just a simple gathered skirt but I managed to cut the pieces out so that the bottom would be straight across!  It's simple geometry, really, but sometimes, what should work in theory doesn't quite turn out in practice…  I used clear elastic to gather the skirt rather than basting and gathering.  I wanted my gathers to be perfectly even and I wanted the waist seam to have stretch.  The tank part is close fitting and there are no closures…
I tried to get some good light to show off the skirt but it's still hard to see.  I used an under layer of white cotton and an over layer of shimmery voile (white with silver shimmer).  The hemming was done with silver thread.
I thought two bows was a bit much so I decided on only the one at the hip.  Purple cotton piqué.  It's really just a rectangle, fold and sewn right sides together, and then turned through an opening (opening slip stitched closed).  The rectangle was gathered with a strip of the piqué and sewn onto the dress in the center.  I tacked either side of the bow to the seam.  Only once for each side.  I'm amazed it stays put as well as it does!
I still felt that the dress needed a little something at the top left.  So when I went shopping at Michael's for something completely unrelated, I went through their T-shirt section.  I was hoping for some heat set jewels or something.  I didn't find the jewels but I did find something! Metallic iron on transfer sheets!  And one of the prints was holographic which, awesome!  Because Jem and the Holograms, get it?
I was going to use silver because the voile has silver shimmer but souricette 1 insisted that gold looked better.  So gold.  But metallics are neutrals so it's okay to mix them, right?  I had these star shaped hole punches that I wanted to use.  First try didn't work at all.  The transfer paper must have been too floppy or something.  I tried again, this time placing the gold sheet on top of a sheet of good old printer paper.  The printer paper gave just enough support to cut through the the transfer sheet.  Souricette 1 insisted on placing the stars herself and I ironed them on.  I did sew the outline as well because I don't trust iron ons.  Especially in a star shape that has pointy bits that a child will start to scratch at…
I decided to whip up a some GoTo leggings in black cotton-spandex jersey to go with the dress. Souricette 1 was going to need new black leggings soon anyway.  I made the size 6 which is a bit big on her but leaves her some room to grow.  I was debating embellishing them and souricette 1 said it needed stars.  So I added stars.  Gold again.  She told me they needed to be symmetrical but I misunderstood her so one side has 5 stars and the other side only has 3.  Oops.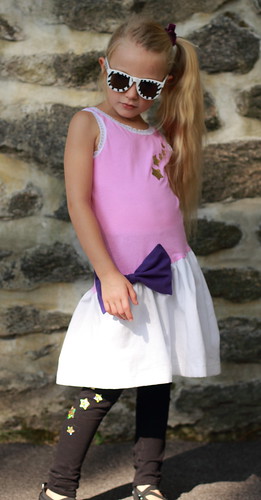 Normally, she would wear the dress to school with her usual ponytail but I wanted to go all out 80s.  Side ponytail (slightly crimped and ratty looking because her hair has been in a braid all day at this point), three gold stars on her cheek, and zebra sunglasses.  She did NOT agree with my styling!  I asked her to smile and look happy but she pretended not to hear.  I asked her to pretend she was Katy Perry and I got a dubious look…  She did dance around singing something or other to herself and I got the shots I could get.  Sometimes, that's all you can ask for…